Cow-calf operations are the backbone of the beef industry. Northern Kentucky is a prime area for these small operations because of the great forage base and our rolling pastures.
This series of classes are designed as a refresher for current cow-calf operators or a new farmer to the beef industry.
Each class will cover a specific topic around cow-calf operations.
Those who complete all classes may be eligible to receive a year's subscription to a record keeping system, X10D, created especially for Kentucky farmers. (Complimentary subscription is limited to participants from Boone, Campbell, Carroll, Gallatin, Grant, Owen, and Pendleton counties.)
CALL YOUR LOCAL EXTENSION OFFICE TO SIGN UP (numbers on the event flyer photo)
CLASSES:
THE BULL
Monday, November 28 Kenton Cty
Ensure your bulls are healthy and fertile. Learn the strategies of selecting a bull, understanding genetic traits, and meeting your bull's health needs.
THE COW
Wednesday, November 30 Grant Cty
Ensure your cows remain healthy and learn about nutrition requirements. Learn reproductive management and the importance of timing your calving season.
MANAGING FORAGES
Monday, December 5 Kenton Cty
It was once said if you are in the cattle
business you are in the forage business too. Learn about grasses and legumes and how to meet the nutritional needs of your herd.
THE CALF
Wednesday, December 7 Grant Cty
Nutritional needs and healthy calves begin long before they are born. Learn ways to ensure successful deliveries and raising a healthy calf to take to market.
THE HEIFER
Wednesday, December 14 Kenton Cty
Heifer development is not that complicated as long as you plan for it.
Learn ways to manage her first calf and her first lactation. Learn about
getting her rebred so she can remain in the herd as a productive cow.
X10D RECORD KEEPING
Monday, January 9 Kenton Cty
This online platform is designed for cow-calf operators to utilize recordkeeping as a management tool. Items such as vaccination records, input costs around feed and feeding, and when culling is needed are all part of this program. More information will be forthcoming during the cow-calf school.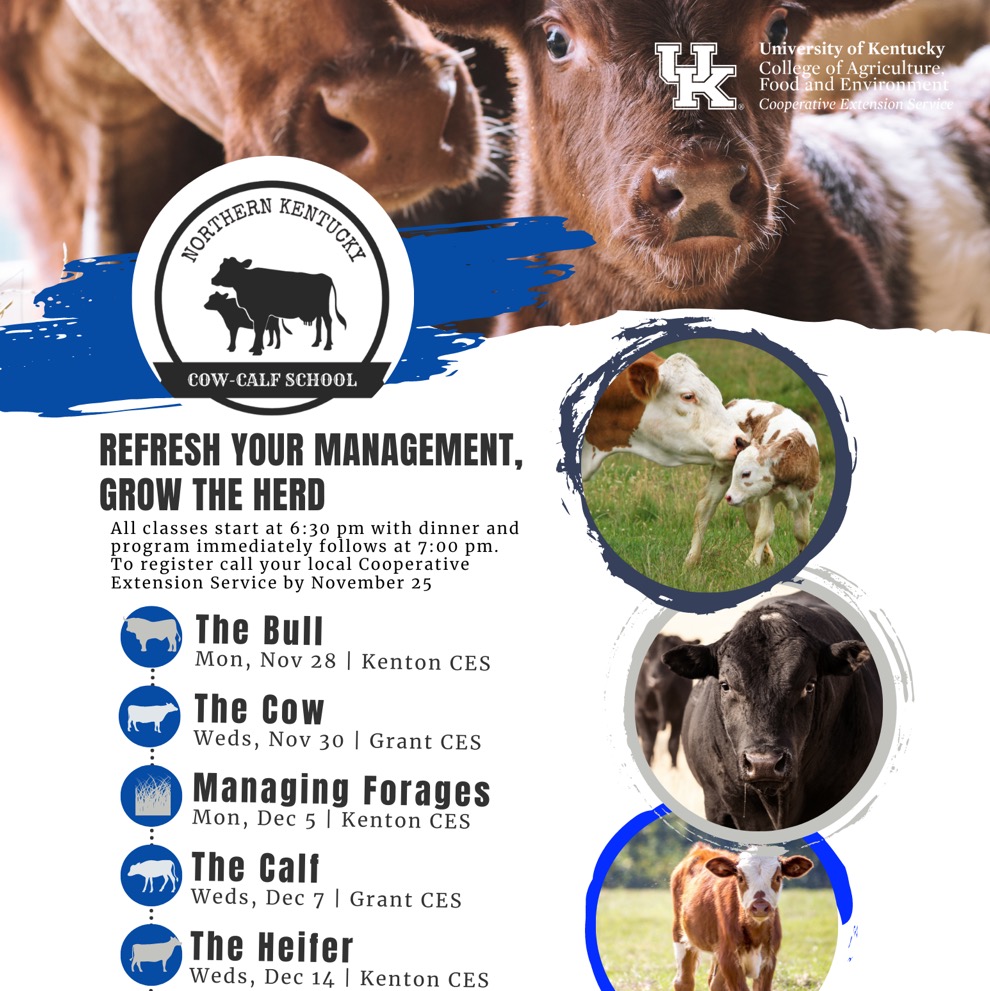 Back